Trip Details
First 24 Hours
When you arrive in Sitka, you will be greeted by our Horizon West staff at the airport. From there, you will be shuttled to a hotel in downtown Sitka for your first night while we are transitioning another group out of the lodge and preparing for your stay. Your hotel stay is part of the package and requires nothing of you. In rare cases, your group will get to skip the hotel stay and go directly to the lodge. Regardless of where you stay, we will graciously remind you of the 4:45 a.m. pickup the next morning, so that we can be at the dock for the first day of fishing by 5:00 a.m. Your rain-gear and rubber boots will be waiting for you on the dock. When you return to the dock after the first day of fishing, we will process your fish while you make your way to the lodge. If you stayed in the hotel on the first night, your bags will be waiting for you in your lodge room. The rest of the afternoon and evening is yours to enjoy all of what Sitka has to offer.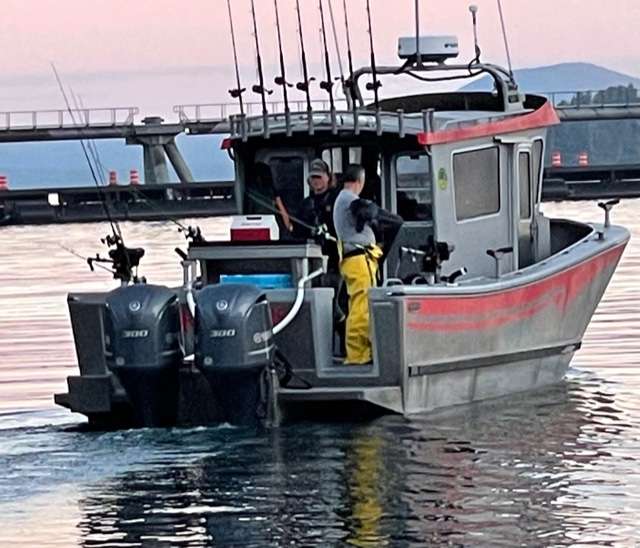 Coldwater Boat
Horizon West Boats
Custom-built 30'-34' Coldwater Boats are the ultimate platform to enjoy these waters. These stable, safe and ideally built boats are laid out for this fishery. The original designer spared no expense in making sure each of the boats are perfect. There's ample deck space with 10' of beam and plenty of interior cabin space. The cabins in these boats are heated and feature bathrooms for your comfort. In short, our boats are fishing machines, designed specifically to catch fish in Alaska.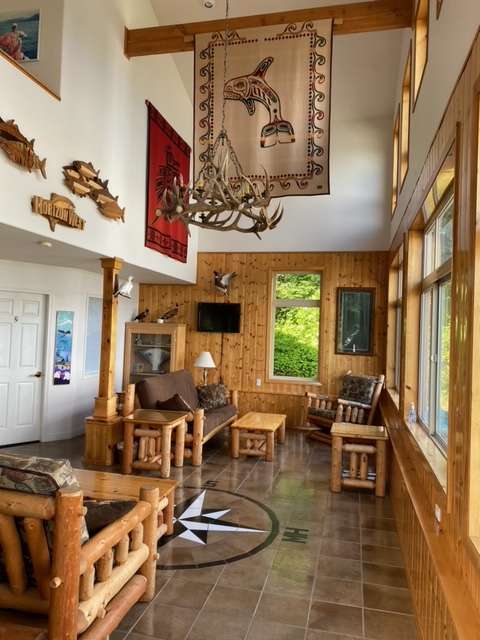 Horizon West Lodge
The Horizon West Lodge has been designed to enhance your Alaska experience. Comfortable, complete, and within walking distance of our docks (although we are happy to shuttle you there), the lodge features a stunning panoramic view that looks west towards the bay and island. There is a large commons area where our guests get a chance to swap stories, revel in their successes and relax as they take in a late-evening sunset. Your search for an Alaskan lodge becomes an easy choice when you compare the amenities Horizon West provides its guests. It is all about the experience, and we know a memorable trip starts and ends with a great night's sleep.
Each of the suites in the lodge includes:
2 bedrooms suites

Bathroom

Living room

Fully-equipped kitchen

Cable television

Deck or patio with barbecue grill

Daily room service
We are proud of the accommodations. They are spacious, well-appointed and clean. We know you will feel comfortable and cozy as you make Horizon West Lodge your headquarters for your Alaskan adventure in Sitka.
Fishing Sitka
Expect to spend 20 minutes to an hour running to the fishing grounds. Horizon West Guides fish where the schools of salmon are concentrated so the run varies. No worries, you will spend that time taking in the Alaska that people dream to experience. A dozen varieties of sea birds, sea lions, a breaching whale or playful Dall's Porpoise are just a few of sights we encounter each trip. We may be rewarded with a bear or orca... every day's a little different.
The fishing is world-class. We are fortunate to have the feed and proximity we do that pulls huge schools of fish into the area. We have all five species of salmon but most of the attention is given to Chinook (king) and Coho (silver) salmon.
Generally, we will start your day fishing salmon. If that is the case we will arm you with our mooching gear that allows you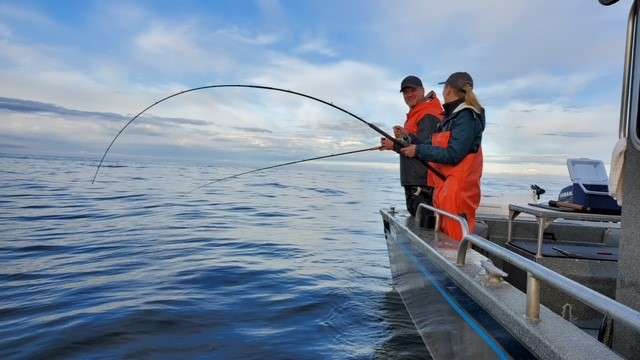 to hold the rod, feel the bite, set the hook and fight the fish. You are fishing from start to finish. It is your arms that will get sore, not ours, as you face the challenge of ocean fresh salmon that fight with storied ferocity --- fish after fish after fish. This is what fishing in Alaska is all about.
Our deep water fishery for halibut is world-renowned. From "barn doors" to "chickens" we have fish that range from tackle-busters that will take you to your knees to prime cuisine that put up quite a battle but are even better on the barbecue. Sitka is a fishing mecca with plenty of sidebar action in ling cod, chum salmon, Dolly Varden and a dozen other bottom dwellers. There is one thing for certain, there are plenty of fish to keep you busy.
It is a full day on the water! We generally leave at first light (5:00 a.m. from the docks) and return to port around 3:30 p.m. Trust us, you will sleep well every night. We include a deli-style lunch every day along with beverages.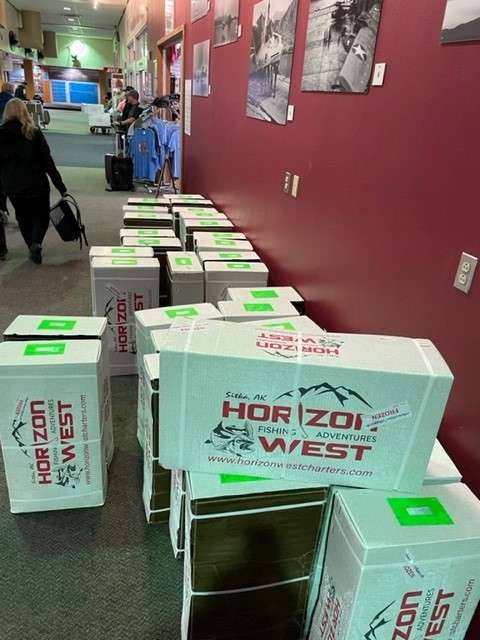 Processing and Packaging Fish
We take pride in caring for your fish to assure that your fresh catch stays that way as long as possible. Prior to your first day of fishing, you will be given the opportunity to determine how your fish will be split among your fishing party. Our deckhands will fillet your halibut and rockfish on the boat and our experienced guides will fillet your salmon on the dock. Regardless where they are filleted, your catch will be vacuum sealed, on trays, and in the walk-in freezer within minutes of reaching the dock. From there, we take care of splitting and boxing the fish to airline standards. It is important to us that your fish reach its final destination fresh and ready to eat.